CHARISMA FOR HAIR SERVICES
CUT & STYLE
Ladies' shampoo & style $27
Ladies' shampoo & cut $40
Ladies' shampoo, cut & style $47
Men's shampoo, cut & style $28
Kids' cuts under 12 $20
Kids' cuts 12-16 $25
Conditioning services $15+
Flat iron $10+
Formal styles $90+
Perm $110+*
Smooth and healthy, anti-curl, Kerasilk $120/hour*
*Consultation required prior to booking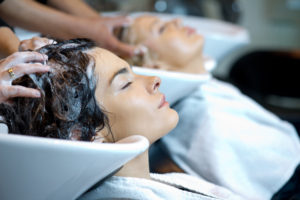 COLOR SERVICES
Semi-Permanent Color $70+
Permanent Color $90+
Full Foil $130+
Partial Foil $95+
Cap Highlights $80+
Bleach $90+
Toner $15+
Nectaya Ammonia Free Color $85+
Elumen $120+
Men's reshade $25+
Consultations included.

---
CHARISMA FOR HAIR GIFT CARDS
Available for all services and products, in any denomination. Charisma Gift Cards will brighten anyone's day! Purchase in the salon. Give the gift of healthy hair!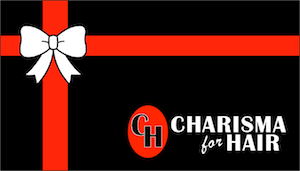 ---
When should I arrive?
Please arrive 10 minutes before your appointment to ensure you receive your full service. We recommend that you also pre-book your next Charisma appointment prior to leaving so that we can be sure to accommodate your schedule as our stylists book up quickly.
If my regular Charisma stylist is booked can I see another stylist?
Of course! We are an incredibly close team at Charisma for Hair and our very first priority is you. If at any time and for any reason you would like to try a different stylist at Charisma for Hair, rest assured there will never be hard feelings.
Are stylist gratuities included on my service bill at Charisma for Hair?
Gratuity is customary for good service and always left to the discretion of our clients but we never include them on your bill. A tip option is presented at checkout.
Can I cancel an appointment?
Absolutely. In consideration of our other clients and our stylists, please give us a minimum 24 hour notice if you cannot make your appointment.

What is included in a color service?
Color services include styling, but no chemical services include haircuts.
What if I am dissatisfied with my hair cut or color?
Beauty is individual and we believe Charisma for Hair clients should leave the salon feeling beautiful and happy with their hair cut or color. If for any reason you are dissatisfied, a Charisma for Hair stylist will gladly adjust your cut or color within five days of your original appointment. Please call us as soon as possible if you have any questions or concerns.
What products do you use?
We promise to use the most effective products available. Our products are all sulfate free.
Perms: ISO, Matrix, Goldwell
Color: We are a signature salon for Goldwell
Amonia Free Color: Nectaya, Elumen
Curl Rearrangers: CHI, Surface Smooth and Healthy, Kerasilk
Facial Waxing: Gigi for delicate skin